Antecedentes Académicos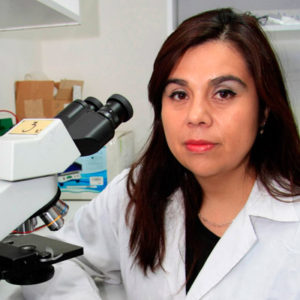 Licenciada en Biología y titulada en Bioprocesos, Pontificia Universidad Católica de Chile (1998), Doctor en Ciencias Biológicas, Mención Genética Molecular y Microbiología, Pontificia Universidad Católica de Chile (2005), Post-doctorado en Genética y Proteómica en Macroalgas, CASEB-Marine Genomics (2008).
Línea de Investigación
Mí línea de investigación se centra en responder preguntas ecológicas en el contexto de las macroalgas utilizando herramientas moleculares (e.g. bioquímica, proteómica, transcriptómica y metabolómica). En la actualidad desarrollo proyectos enfocados en reconocer los mecanismos de tolerancia que presenta el ensamble de algas a diversos factores ambientales, con el fin último de entender el patrón de distribución de diversas especies algales, tanto de importancia ecológica como económica, a nivel de la distribución local y geográfica.
My investigations focus on responding to ecological questions in the context of macroalgae by applying molecular tools, such as with biochemical, proteomic, transcriptomic, and, recently, metabolomic methods. Currently, my projects are concentrated on the tolerance mechanisms employed by diverse algae in varied environmental conditions. The goal of these studies is to understand the distribution pattern of various algal species, within both an ecological and economic framework and at the local and regional levels.
Proyectos
2016-2021. Investigador Proyeto CORFO CONSORCIO TECNOLÓGICO IFAN (DESARROLLO SINÉRGICO DE INGREDIENTES FUNCIONALES Y ADITIVOS NATURALES)", código 16PTECAI-66648.
2016-2017. Investigador Responsable Proyecto Regular UNAB DI-1245-16/RG. "Diversidad y estructura genética de poblaciones del luche chileno (Pyropia orbicularis)"
2016-2018. Co-Director. Proyecto FONDEF IDEA-CONICYT N° ID15I10320. "Determinación de factores que inducen la maduración en reproductores de las algas rojas Chondracanthus chamissoi y Callophyllis variegata: Suministro controlado de esporas para el cultivo comercial"
2015-2016. Director. Proyecto Fondo Innovación para la competitividad. FIC-2015 Región de Valparaíso. BIP N° 30397482-0. "Cultivo del alga parda Macrocystis pyrifera en la zona de Quintero y Puchuncaví: Evaluación de la productividad y potencial uso para biorremediación de metales pesados y compuestos orgánicos"
2014-2018. Investigador. Center of Applied Ecology & Sustainability (CAPES-UC). CONICYT FB 0002 . Line 1: Metal enrichment of the environment: from the effects to the remedy.
2012- 2016. Investigador Responsable Proyecto FONDECYT Regular 2012 1120117. Proyecto titulado "Unraveling the molecular-ecological factors involved in desiccation stress tolerance of intertidal seaweed species: transcriptomic, proteomic and metabolomic analysis".
2008 – 2011 Investigador Responsable Proyecto de Iniciación FONDECYT Iniciación 11085019 titulado "Molecular responses to desiccation in macroalgae and potential ecological implications".
2014-2015. Investigador Responsable Proyecto Regular UNAB DI-501-14/R. "Patrón de distribución vertical en algas: capacidad diferencial de tolerancia a estrés ambiental".
2012-2014. Investigador Responsable Proyecto Regular UNAB DI-59-12/R. "Respuestas de tolerancia latitudinal en Pyropia columbina (Plantae, Rhodophyta) al estrés generado por desecación: un estudio a nivel molecular".
Proyecto de Extensión académica DEA 1414. Dirección general de vinculación con el medio Universidad Andrés Bello. Exposición itinerante: el jardín bajo el agua. Exposición fotográfica.
http://ficalgas.unab.cl
www.capes.cl
ANTIOXIDANT RESPONSES IN SCYTOSIPHON LOMENTARIA (PHAEOPHYCEAE) INHABITING COPPER‐ENRICHED COASTAL ENVIRONMENTS1

L Contreras, A Moenne, JA Correa

Journal of Phycology 41 (6), 1184-1195

76

2005

Differential responses to copper-induced oxidative stress in the marine macroalgae Lessonia nigrescens and Scytosiphon lomentaria (Phaeophyceae)

L Contreras, D Mella, A Moenne, JA Correa

Aquatic Toxicology 94 (2), 94-102

61

2009

Proteomic analysis and identification of copper stress-regulated proteins in the marine alga Scytosiphon gracilis (Phaeophyceae)

L Contreras, A Moenne, F Gaillard, P Potin, JA Correa

Aquatic Toxicology 96 (2), 85-89

56

2010

Tolerance to oxidative stress induced by desiccation in Porphyra columbina (Bangiales, Rhodophyta)

L Contreras-Porcia, D Thomas, V Flores, JA Correa

Journal of Experimental Botany 62 (6), 1815-1829

52

2011

Kinetics of copper accumulation in Lessonia nigrescens (Phaeophyceae) under conditions of environmental oxidative stress

S Andrade, L Contreras, JW Moffett, JA Correa

Aquatic toxicology 78 (4), 398-401

36

2006

TWO‐DIMENSIONAL GEL ELECTROPHORESIS ANALYSIS OF BROWN ALGAL PROTEIN EXTRACTS1

L Contreras, A Ritter, G Dennett, F Boehmwald, N Guitton, C Pineau, …

Journal of phycology 44 (5), 1315-1321

33

2008

Experimental transplants of the large kelp Lessonia nigrescens (Phaeophyceae) in high-energy wave exposed rocky intertidal habitats of northern Chile: Experimental, restoration and management applications

JA Correa, NA Lagos, MH Medina, JC Castilla, M Cerda, M Ramírez, …

Journal of experimental marine biology and ecology 335 (1), 13-18

30

2006

Identification of copper-induced genes in the marine alga Ulva compressa (Chlorophyta)

L Contreras-Porcia, G Dennett, A González, E Vergara, C Medina, …

Marine biotechnology 13 (3), 544-556

29

2011

Effects of copper on early developmental stages of Lessonia nigrescens Bory (Phaeophyceae)

L Contreras, MH Medina, S Andrade, V Oppliger, JA Correa

Environmental Pollution 145 (1), 75-83

22

2007

Seaweeds early development: detrimental effects of desiccation and attenuation by algal extracts

L Contreras-Porcia, S Callejas, D Thomas, C Sordet, G Pohnert, …

Planta 235 (2), 337-348

16

2012

Molecular and morphologically distinct Scytosiphon species (Scytosiphonales, Phaeophyceae) display similar antioxidant capacities

L Contreras, G Dennett, A Moenne, RE Palma, JA Correa

Journal of phycology 43 (6), 1320-1328

13

2007

Desiccation stress in intertidal seaweeds: effects on morphology, antioxidant responses and photosynthetic performance

MR Flores-Molina, D Thomas, C Lovazzano, A Núñez, J Zapata, M Kumar, …

Aquatic Botany 113, 90-99

12

2014

Tolerance to air exposure: a feature driving the latitudinal distribution of two sibling kelp species

C López-Cristoffanini, F Tellier, R Otaíza, JA Correa, L Contreras-Porcia

Botanica Marina 56 (5-6), 431-440

11

2013

Comparative analysis of peroxiredoxin activation in the brown macroalgae Scytosiphon gracilis and Lessonia nigrescens (Phaeophyceae) under copper stress

C Lovazzano, C Serrano, JA Correa, L Contreras‐Porcia

Physiologia plantarum 149, 378-388

10

2013

Differential gene expression in Pyropia columbina (Bangiales, Rhodophyta) under natural hydration and desiccation conditions

L Contreras-Porcia, C López-Cristoffanini, C Lovazzano, …

Latin American Journal of Aquatic Research 41 (5), 933-958

10

2013

Identification of proteins involved in desiccation tolerance in the red seaweed Pyropia orbicularis (Rhodophyta, Bangiales)

C López‐Cristoffanini, J Zapata, F Gaillard, P Potin, JA Correa, …

Proteomics 15 (23-24), 3954-3968

9

2015

Pyropia orbicularis sp. nov. (Rhodophyta, Bangiaceae) based on a population previously known as Porphyra columbina from the central coast of Chile

ME RAMÍREZ, L CONTRERAS-PORCIA, ML GUILLEMIN, J BRODIE, …

Phytotaxa 158 (2), 133-153

8

2014

The bladed Bangiales (Rhodophyta) of the South Eastern Pacific: Molecular species delimitation reveals extensive diversity

ML Guillemin, L Contreras-Porcia, ME Ramírez, EC Macaya, CB Contador, …

Molecular phylogenetics and evolution 94, 814-826

6

2016

Proteomics in Seaweeds: Ecological Interpretations

L Contreras-Porcia, C López-Cristoffanini

Gel Electrophoresis – Advanced Techniques

6

2012

Role of abscisic acid (ABA) in activating antioxidant tolerance responses to desiccation stress in intertidal seaweed species

E Guajardo, JA Correa, L Contreras-Porcia

Planta 243, 767-781

4

2016
Physiological plasticity of Dictyota kunthii (Phaeophyceae) to copper excess

C Sordet, L Contreras-Porcia, C Lovazzano, S Goulitquer, S Andrade, …

Aquatic Toxicology 150, 220-228

4

2014

LAMINARIOCOLAX SP.(PHAEOPHYCEAE) ASSOCIATED WITH GALL DEVELOPMENTS IN LESSONIA NIGRESCENS (PHAEOPHYCEAE) 1

D Thomas, J Beltrán, V Flores, L Contreras, E Bollmann, JA Correa

Journal of phycology 45 (6), 1252-1258

3

2009

Response to oxidative stress induced by high light and carbon dioxide (CO2) in the biodiesel producer model Nannochloropsis salina (Ochrophyta, Eustigmatales)

K Yangüez, C Lovazzano, L Contreras-Porcia, N Ehrenfeld

Revista de Biología Marina y Oceanografía 50, 163-175

1

2015

Pyropia orbicularis sp. nov.(Rhodophyta, Bangiaceae) based on a population previously known as Porphyra columbina from the central coast of Chile

M Eliana Ramirez, L Contreras-Porcia, ML Guillemin, J Brodie, C Valdivia, …

PHYTOTAXA 158 (2), 133-153

1

2014

Methylglyoxal metabolism in seaweeds during desiccation

C Fierro, C López-Cristoffanini, N Latorre, J Rivas, L Contreras-Porcia

Revista de Biología Marina y Oceanografía 51, 187-191

 

2016

The bladed Bangiales (Rhodophyta) of the South Eastern Pacific

ML Guillemin, L Contreras-Porcia, ME Ramírez, EC Macaya, CB Contador, …

 

2015

IDENTIFICACIÓN DE PROTEÍNAS INVOLUCRADAS EN LA TOLERANCIA A DESECACIÓN EN EL ALGA ROJA PYROPIA ORBICULARIS (RHODOPYTA, BANGIALES)

L Contreras-Porcia, C LÓPEZ-CRISTOFFANINI, J ZAPATA, F GAILLARD, …

XVI Colacmar y XVI Senalmar, Santa Marta 2015

 

2015

DIFERENCIACIÓN ECOLÓGICA ENTRE ECOTIPOS DE DOS ESPECIES HERMANAS DE Pyropia (Bangiales, Rhodophyta) MEDIADO POR ESTRÉS AMBIENTAL

J Zapata, A Meynard, N Latorre, F Castañeda, E Guajardo, C Fierro, …

XVI Colacmar y XVI Senalmar, Santa Marta 2015

 

2015

Respuesta a estrés oxidativo generado por alta luz y dióxido de carbono (CO2) en el modelo productor de biodiesel Nannochloropsis salina (Ochrophyta, Eustigmatales)

K Yangüez, C Lovazzano, L Contreras-Porcia, N Ehrenfeld

Revista de biología marina y oceanografía 50, 163-175

 

2015

LUIGI PROVASOLI AWARD RECIPIENTS

D Thomas, J Beltran, V Flores, L Contreras, E Bollmann, JA Correa

JOURNAL OF PHYCOLOGY 45 (6), 1252-1258

 

2009
Guardar
Guardar
Guardar
Guardar
Guardar